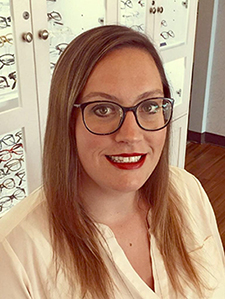 Jenn is one of our in-house frame stylists and our practice manager, but you'll most likely work with her in our eyewear boutique. She is here to help you find frames that will not only look absolutely perfect on you, but will also help you see SO much better, which is the whole point right?
She's a total people person, and makes sure that every person who walks through our doors leaves here feeling better than before. One of the best things she brings to this job (besides her amazing style and eyewear expertise) is her patience. She'll spend as much time as you need to get the right style, fit, and comfort with the glasses or lenses you choose. Think of her as the best friend you didn't even know you needed – she's honest, friendly, and smart.
Although she's not going to push you to buy anything you don't need, she definitely recommends owning more than one more pair of glasses (ahem, she owns 30 pairs, but let's keep that as our own little secret). You never know when you might feel trendy, classic, or chic, right? You also never know when you might sit on and crush your one and only frames. She recommends staying prepared.
She's a Virginia native, but has been a proud Queen City resident for ten years. If you ask her for a dinner recommendation, she'll probably point you straight to Blue, her fave Charlotte restaurant. When not at work, she loves good food, a mani/pedi, watching sports, a nice long motorcycle ride, and time spent with family. Oh, and don't let the fashionista thing fool you either – she's a former collegiate basketball player and STILL enjoys shooting hoops in her free time. Yep, she's a true Renaissance woman, and we can't wait for you to meet her.