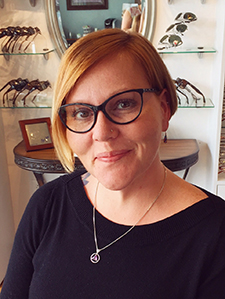 Bessie is our office cheerleader. The second you meet her, you'll see – she's just a breath of fresh air and a true people person. As our optometric technician (AKA Dr. Mumford's right-hand-woman) Bessie will do all of your pre-testing and contact lens training. If you're new to contact lenses and a little nervous, you've come to the right place. One of Bessie's specialties is getting the perfect fit for every one of our patients that wears contact lenses. How does she do that? Patience. Lots of it. She'll never rush you and will make sure you're happier than you came when you leave our office.
In her free time, Bessie volunteers at a local nonprofit in town that's near and dear to heart. She also meets up with her son, a US Marine every chance she can get. She makes a mean bowl of turkey chili and loves to walk – especially on the beach – and is hoping to run a marathon soon. We guarantee that her marathon playlist will include plenty of hits from the 90s – a little New Kids on the Block mixed with Whitney Houston and Prince is her jam. We just hope our office cheerleader turns down the tunes long enough to hear how loud WE will be cheering for her when she crosses the finish line.
Her motto in life is Practice positivity, and we're so thankful she brings it to our office every single day. We promise you'll love Bessie just as much as we do!