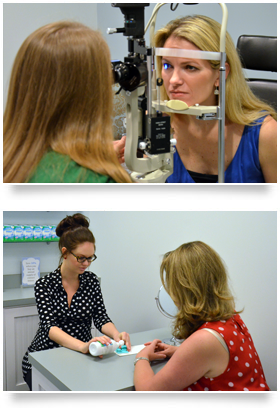 We believe that the selection of a personalized contact lens solution needs to be based on your vision issues, prescription, overall eye health, lifestyle, age and comfort. Dr. Mumford and our entire staff are very hands-on and will personally customize the right contact lens for YOU.
Our office is stocked with all the best brands in a huge variety of prescriptions (just ask to see the "contact closet" – you've gotta see it to believe it).
If you need a specialty contact lens, Dr. Mumford has extensive experience fitting patients with every kind of eye condition including keratoconus. She especially enjoys fitting multifocal and scleral lenses as well as leveraging cutting-edge technology such as Corneal Refractive Therapy. Sounds crazy, we know, but those are a few of her favorite things!
Make an appointment by phone or online for contact lens fittings. If you need to re-stock your supply, give us a call OR order online and we'll mail them directly to you.
Please call us today to schedule your contact lens evaluation – 704-348-1500!